Thematic analysis is a technique used to analyze qualitative data. It is not the only technique used to analyze and interpret qualitative data. There are many other techniques, such as grounded theory and narrative analysis. As the name implies; the thematic analysis identifies various themes within qualitative data.
What is Thematic Analysis?
The thematic analysis deals with identifying, analyzing, and reporting themes within data. It minimally organizes and describes the data set in (rich) detail. It also interprets various aspects of the research topic (Braun & Clarke, 2006, p.76). Thematic analysis is not restricted to analyzing and reporting themes; it also deals with the interpretation of themes to address the problem statement under consideration in a study. However, it is mostly used to analyze and interpret transcripted qualitative data collected through interviews
What is a Theme?
A theme is a data pattern that provides important information about the research question. The thematic analysis uses themes identified from the repetitive reading of transcripted data. Themes address the research question and problem statement in a qualitative study.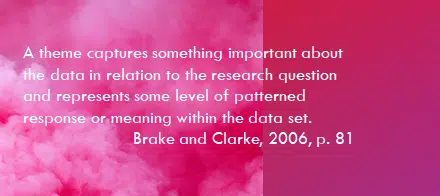 Steps for Thematic Analysis
Initially, It is performed using a four-step sequential approach. Before starting with thematic analysis, the researcher transcripts recorded interviews. It can also be performed using any data in the form of text such as speech, Ted Talk, or meeting minutes. However, data must be in the form of text to perform thematic analysis.
Step 1:
Familiarization is done through reading the transcript of interviews or any other text again and again. The researcher reads the text repetitively to identify various themes. However, these themes are used to analyze and interpret data to address research questions.
Step 2:
Code is the most basic unit in thematic analysis. A code can be a theme, an idea, or a concept. It is something that is meaningful, important, and related to research question. Furthermore, Coding involves finding out codes from reading the text and labeling data. Different colors are used to identify codes in the text.
Step 3:
A coding framework is developed from the codes that have been identified in step 2. Although, this coding framework consists of themes and codes supported by colored excerpts from the transcript.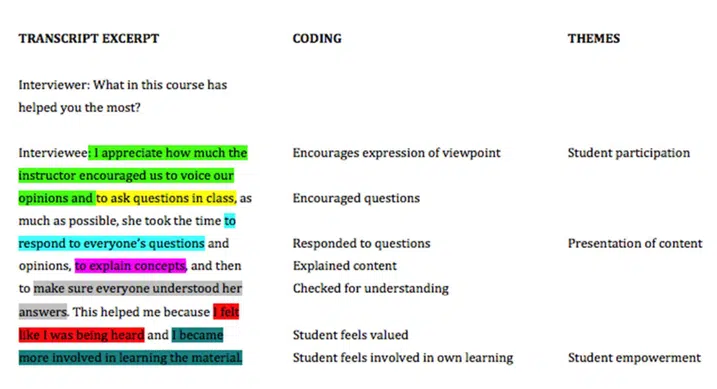 Step 4:
Illustrations support the coding framework. The researcher supports analysis and interpretation by highlighting relevant quotes from the text. It is also important to define and describe various themes and codes.
| | | |
| --- | --- | --- |
| Theme | Sub-theme | Quotation |
| Work-family Household StrategiesThis theme describes the different strategies households used to combine paid work with raising their families | 'Downsized' Households, This sub-theme describes the households that changed their working patterns to spend more time with their family. | 'We used to live in London and just got caught up in the whole rat race thing. I hardly saw my children because I was working such long hours. So, we just decided to move to Scotland, change our jobs, lower our incomes but spend more time with our children |
References
Braun, V. and Clarke, V. (2006). Using thematic analysis in psychology. Qualitative Research in Psychology, 3: 77-101.
Creswell, 2007. Research Design- Qualitative and mixed methods approaches. London: Sage Publishers.
Aslo read : Understanding Positivism and Causal Research